I'm actually working on and loving my WIP these days, so that's REALLY GOOD. Some of my sudden inspiration/work ethic has definitely come from the awesome book on writing I'm currently reading. When I realized a year or two ago that writing books was something I really wanted to do, the first thing I did was pick up a book on the subject.Today I'm going to share my favorite books (so far) on the subject.
The first writing book I ever got was
The Complete Idiot's Guide to Writing a Novel
. Certain parts of it are a tad outdated (some of the things about publishing) but the vast majorirty of it is totally relevant. It was the perfect book for me as a beginner and I'd definitely recommend it for a good overview. In each chapter there are helpful writing exercise blurbs and quotes from writers that are funny/helpful/inspiring. I've reread it multiple times and my copy is filled with highlighting and pen marks,etc. For a few months after I bought it I just toted it around with me everywhere. I'm odd, what can I say.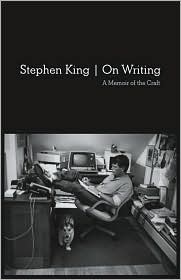 The second book on writing I ever read was Stephen King's aptly named
On Writing
, a semi-biographical writing guide that is funny and personal and very helpful and engaging. I bought it just because lots of writers raved about it, and they were right!
I'm currently reading Bird by Bird by Anne Lamott which is SUCH AN EXCELLENT BOOK. There isn't much that I didn't already know or know of (believe me, I've read A LOT about writing. My pile of printed out blog articles on the subject weighs roughly 200 pounds), but this book is very quotable, very interesting, and offers a wonderful perspective that's really made me want to write. I think I may like it even better than the two aforementioned books.
Two other books on writing I bought online came in the mail today! They are
The Fire in Fiction
by Donald Maass and
Self-Editing for Fiction Writers
by Renni Browne & Dave King. I obviously haven't read either of these yet, but I'll let you know what I think!
Happy writing!
- Nicole